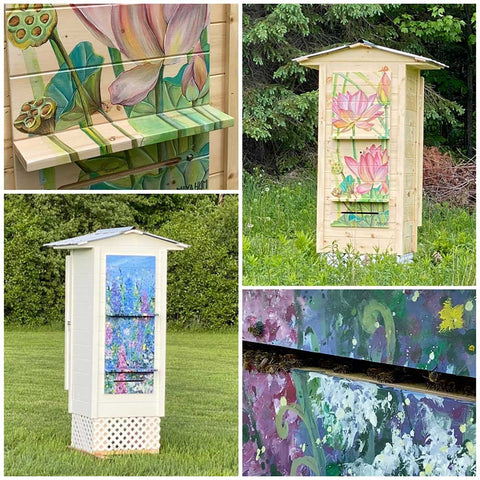 Residential Host
Are you a small business, homeowner, or community organization that would like to experience honeybees and harvest honey?
As a residential host, you will benefit from having a fully managed custom-designed EZHouse that can accommodate 1 or 2 colonies of honeybees on your property. Each EZHouse has one original artist's mural and produces 24-48kg of honey annually. 
All honey is co-branded and labeled for you and Apiverte provides numerous opportunities to meet the bees, learn about pollinators, and experience beekeeping. Host agreements are year-to-year contracts with annual fees. 
Review the program details and submit your deposit. Accepting hosts in the municipalities of Chelsea, La Pêche, and Low Quebec. Please contact us if you are outside of our current service area. All requests to subject to a site survey.
Annual fees: $1750 for 1 colony, $3500 for 2 colonies, payable in installments
Nutritional Facts
Calories, 60
Fat, 0g / 0%
Carbohydrates, 17g
Sugars, 16g
Protein, 16g