Introducing Atria Beekeeping by Apiverte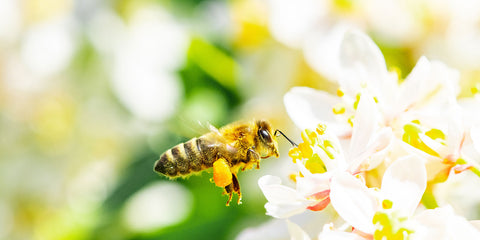 A made to order elegant beekeeping solution that keeps your bees safe & secure.
Elegant Beekeeping Designed for You
Atria is a bee management solution that empowers small-scale producers by eliminating traditional beekeeping barriers. Carefully crafted for human interaction, accessing your colonies for crucial health monitoring and care becomes an effortless task. Manage your bee colonies, experience the utmost ease and efficiency throughout your beekeeping journey.

Simplified regular inspections

Visual inspections without colony distruption

Catch issues before they are problems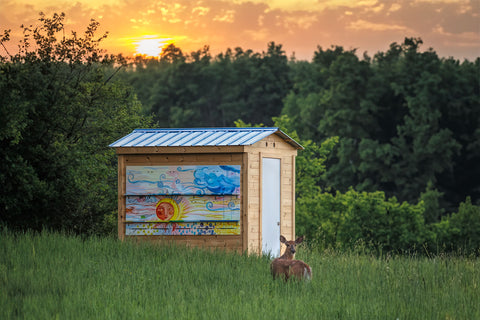 Safe & Secure
Atria protects your bees with a range of deluxe and mini-sized bee houses, designed to meet your specific beekeeping requirements. The complete Atria solution serves as a secure haven, ensuring the safety of your bees while simplifying your beekeeping process. Built to withstand the demanding conditions of North America, Atria is ready to tackle the challenges of maintaining healthy and thriving bee colonies.

Keep bees safer from attack


Climate control in any weather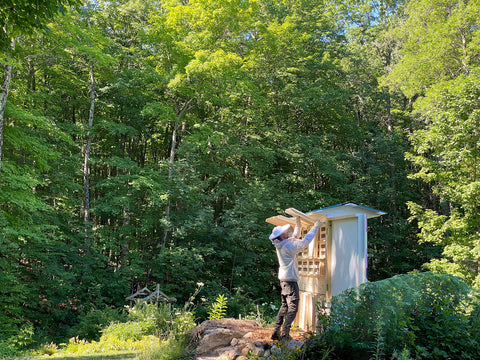 Made to Order
Atria gives you the freedom to install your bees anywhere you desire. The versatile panel is designed to be easily mounted within our custom bee houses or your existing structures, allowing you to tailor your beekeeping environment according to your preferences. With adjustable height options, Atria ensures convenience and accessibility for beekeepers of all levels.


Mountable at custom heights

Unlock Your Beekeeping Potential with Atria by Apiverte
Atria offers a comprehensive, user-centric approach to bee management, elevating your beekeeping experience to new heights of achievement.

Designed with beekeepers in mind

Built to easily monitor bee health

Ideal for producing honey
Customizable
Atria is available in 3 variations; Deluxe, Mini, and DIY. Each Atria option comes complete with hive, frames, dividers and size appropriate mounting panel. Customizations are available including artists murals.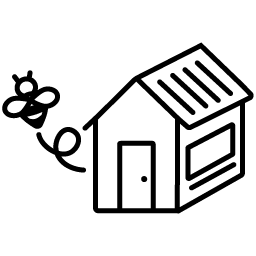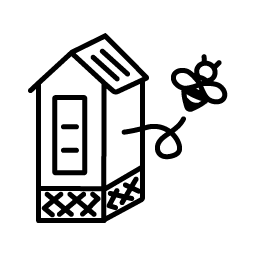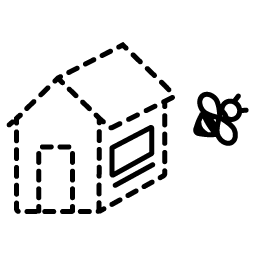 Up to 5
Bee Colonies per bank
4' x 4'
starting footprint
Front steel door access with handle, deadbolt and keys
Rear reinforced barn-style doors with padlock
R14
wall, ceiling and door*
R14
wall, ceiling, floor, and door*
Choice of steel roof colours
Choice of steel roof colours
Exterior: unfinished v-joint pine
Interior: wood panels
Exterior: unfinished v-joint pine
Pressure treated wooden skids
Pressure treated integrated base
from $13,500
from $2,500
from $1,500
Request a quote
Complete the following form and we will get back to you shortly with a formal quote.
The Atria Hive with integrated brood chamber is designed with the beekeeper in mind. It includes interlocking interior doors, providing optimal ventilation and ensuring the well-being of your bees. It's engineered joinery and hardware make accessing your bees easier. The hive features a spacious 9 frame brood chamber on rails, accompanied by three 11 frame honey super chambers, allowing your bees to thrive and produce an abundance of honey. The chamber dividers offer versatility, including a queen excluder, pass-through, and solid option with a removable plug for convenient pail feeding. This hive seamlessly mounts to the panel, and we provide the necessary mounting hardware in banks of 1, 2, 4, or 5. Additionally, each hive is equipped with 42 wooden shoulderless frames, complete with waxed plastic foundation, ensuring sturdy support for your buzzing colony. The hive is currently available as part of Atria, as a complete beekeeping solution for enthusiasts and professionals alike.
The versatile mounting panel is designed to seamlessly accommodate various Atria installations. Available in banks of 1, 2, 4, or 5, this panel offers a customizable solution for your specific needs. Designed specifically for our hives, these panels allow for easy and secure mounting on the interior of Atria Bee House or your existing structure, ensuring a stable and efficient beekeeping environment. Crafted with high-quality V-joint pine, the exterior of the panel exudes a rustic charm, while providing a blank canvas for personalization. Experience the convenience and durability of Atria, the perfect companion for your beekeeping journey.
Firstly the Atria Mini can be built to accommodate 1, 2, or 4 colonies of honeybees. The Atria Deluxe can fit one or two banks of 5 hives, providing homes for up to 10 colonies of honeybees. Secondly, beekeeping is managed from the rear of the Mini and in the Deluxe it is managed from the inside of the bee house.
Atria size and model, roof colour, exterior finishing options, insulation, artists murals, electric fences, mounting height, electrical.
Atria can be upgraded with different electrical fence packages, cedar exterior/roof, custom exterior finishes, and commissioned artists murals.
Additional dividers including; pass-through, bee escape and queen excluders are available. Frames are available in waxed plastic or wax foundation.
Atria is currently available to be shipped within Canada and the US.
Once your deposit has been received you will be issued a production date. Beyond that date there can be no refunds or returns. Atria is custom built just for you.
Each order is custom, shipping options will be provided at your order time.